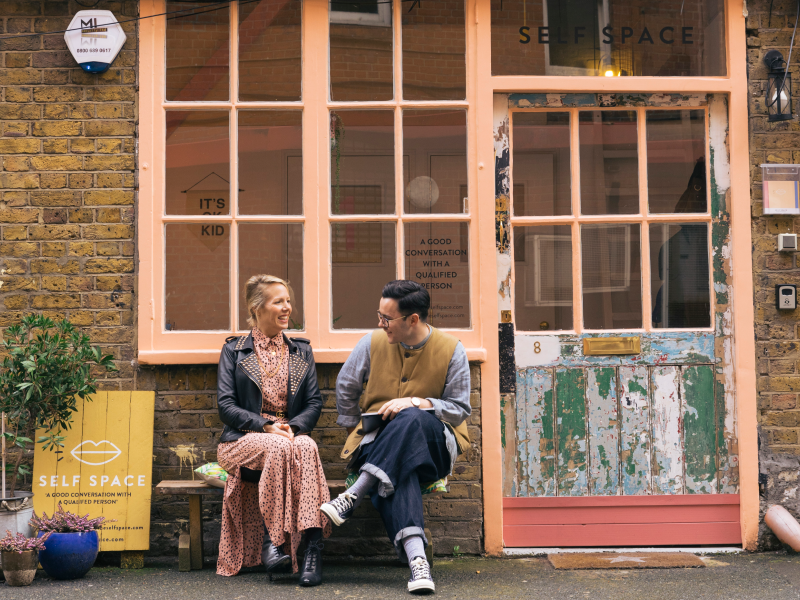 A unique retreat to help you reach your full potential (and still do you) with Self Space
'How to Grow Through what You Go Through' Retreat
Hosted by Jodie Cariss and Chance Marshall, authors and founders of Self Space.
Based on their awesomely refreshing book 'How to grow through what you go through' and the concept of everyday mental maintenance, authors Jodie and Chance will strive to not only normalize the conversation around mental health, but equip you with the tools you need for a proactive approach during this idyllic retreat on the white isle.
Touching on challenges, relationships, repeating patterns, self-regulation and emotional resilience - they'll create space to take a deep dive into what makes you: you. Freeing you up to live in a way that is closer to how you want to.
Kickstart the day enjoying our legendary, leisurely breakfast with your toes in the sand before joining a session and then relaxing by the pool or on the beach. The stunning location and incredible gastronomy the hotel is legendary for, are the perfect ingredients for you to enjoy the authentic Ibiza with purpose and meaning. You will leave feeling relaxed, nourished, and prepared to grow through whatever else you go through.
What to expect: Beach journaling, group talks, walks and bonding. Incredible food, meditation & reflection. Personal stories, therapist insights and intervention, support & challenges. Ultimately, an experience in Ibiza you will refer to often, treasure and remember fondly
Expect to walk away with: A deeper awareness of yourself; an understanding of how others receive you; a renewed sense of your past; a vision for your future; an experience of sharing yourself, the good, the challenging and the messy; a special, authentic and unique relationship with Ibiza and Nobu Ibiza bay
The 'How to Grow Through what You Go Through' Retreat will take place from 15 - 18 October 2023.
Prices start from 880 EUR including three nights accomodation, daily breakfast and lunch, one Omakase dinner at Nobu restaurant, and 3-days of workshops and sessions.
For more info and reservations, please contact:
reservations-ibiza@nobuhotels.com
FAQ and more information
What does a Self Space retreat at Nobu Hotel Ibiza Bay look like?
A three-day mental maintenance retreatthat will support you to know yourself, findcalm and make long-lasting positive changesin your life whilst enjoying the best of thebeautiful White Isle.

Hosted by The Self Space team.
Touching on challenges, relationships,repeating patterns, self-regulation andemotional resilience, we'll create space totake a deep dive into what makes you - you.We'll explore what is serving you and whatisn't, freeing you up to live in a way that iscloser to how you want to.
Expect creative therapies with qualifiedtherapists. Beach journalling. Group walks.Group talks. Incredible food. Partner work.Writing. Making. Playing. Stories. Deepreflections. Movement.
Why come on this retreat?
Alongside food from the exceptionalChambao and Nobu restaurants, thefacilities of the Nobu Hotel Ibiza Bay(including luxurious pools and spa by SixSenses) and spectacular views of TalamancaBay, guests on the retreat can expect;
1- A deeper awareness of yourself
2- An understanding of how othersreceive you
3- A renewed sense of understandingof your past
4- A vision for your future
5- An experience of sharing yourself;the good, the bad and the messy
6- A deep understanding of a newgroup of people
7- To experience a slightly different,more authentic side to Ibiza
Sessions and Themes
15Oct | 7pm: Deep and Meaningful Dinner
On the night of arrival join us for a Deep and Meaningful Nobu Supper Club and experience a 5 courseOmakase.
16Oct | 10am - 5pm: Who am I?
Meet and welcome
What to expect from the retreat
A bit about me/who Iam/how I am / why I'm here
- Lunch -
Afternoon:
Where am I at right now?
Where do I want to be?
Observation and questioning of the gap
Meditation
17Oct | 10am - 5pm: Where am I at?
Morning:
Morning Movement Flow
Beach Journalling
What am I going through?
What have a grown through?
- Lunch -
Afternoon:
Social exploration tools
Patterns and repeatingcycles
Relationships
Hopes
Walk / Mediation
18Oct | 10am - 4pm: Where am I going?
Morning:
Journaling
Goal setting
Foreseeable challenges
What will I need?
Who will I need?
What can leave behind?
- Lunch -
Afternoon:
Walk
Closing statement
Reflection
Affirmations and goodbyes
What are the benefits of attending theretreat?
Attendees can expect to improve their mental and emotional well-being, reduce stress and anxiety, and gain greater self-awareness and insight.

What is included in the retreat?
Three days of therapist lead sessions, three night stay at Nobu Hotel Ibiza Bay, daily breakfast and lunch for the duration with an Omakase Dinner.

What should I expect at Nobu HotelIbiza Bay?
With amenities such as beachside pools andstunning views of the surroundinglandscape, expect relaxing luxury by day anddowntempo beats and chill-out vibes bynight.
You are free to enjoy the hotel's facilitiesoutside of timetabled sessions.
What should I bring to the retreat?
You should bring comfortable clothing thatyou can move in, as well as any personalitems you may need during your stay. Don'tforget a notebook, pens and any journalingmaterial.

Is the retreat safe for people withmental health conditions?
Our sessions are lead by qualifiedtherapists. If you've got a diagnosable mental health condition and you're worried,flag it with us via hey@theselfspace.com or when we reach out for your pre-retreat infoand we can go from there.

Will there be downtime?
Outside of scheduled activities, you're free to enjoy your own rest or adventures. We'll also break for lunch each day.

Can I have my phone/devices?
To ensure focus and privacy, we'd ask that devices aren't present during the timetabled sessions (this is where your notebook comes in handy).
Meet your hosts
Jodie Cariss
Jodie Cariss is the founder of Self Space, aTherapist with over 18 years experience in the field and a Tavistock trained executive coach. Jodie hasfast become a leading voice advocating foraccessible mental health support.
She is the co- author of How to Grow Through What You Go Through, published by Penguin in 2022 and regularly contributes to panel talks, podcasts and media titles such as Stylist Magazine,Cosmopolitan, Vogue and The Times. Her experience is vast, across global sectors as both a consultant and an ambassador.
Jodie is also one half on the men's mental health podcast 'I'm Okay Though', alongside music producer Owen Cutts. Prior to training as a therapist, Jodie was a TV Presenter and hosted popular TV shows including Fort Boyard For Challenge, Milkshake, The Core and spent three years as a wildlife presenter (she was also sadly the most featured presenter on 'It shouldn't happen to a wildlife presenter'!)
Ryan Campinho Valadas
Ryan (he/him) is a queer-identifying and LGBTQIA+ affirming therapist. His approach is flexible, compassionate, and reflective. He is interested in the influence of social and cultural dynamics in our lives and uses this framework to support others in finding clarity and relief from overwhelming anxieties and pressures.
Ryan has a varied clinical experience as an individual, couples, and group therapist, and has worked with substance misuse, sexual health, LGBTQIA + wellbeing, general adult mental health, and children's mental health within education. This has given him a well-rounded understanding of a person's lifespan,as well as the importance of relationships in our lives.
His main intention is to facilitate people in building better connections to their identities,desires, relationships, and life journeys.
Nina Gaul
Nina is a Contemporary Psychotherapist using apluralistic approach. Prior to becoming a Psychotherapist Nina worked as a Primary School Teacher and whilst teaching she qualified as a Personal Trainer contributing to her passion for working with both the mind and the body.
Nina offers a safe, compassionate, and non-judgemental space where she works with you to focus on the cause of your challenges, your immediate needs and your future wellbeing.
Nina has a warm and positive approach in the therapy room and when delivering workshops and draws upon her varied experience and training to support you in uncovering the resources that are already within you to help you navigate life's challenges.
Join us for a therapist-led, compassionatelydisruptive retreatwhere we help you growthrough the things yougo through.