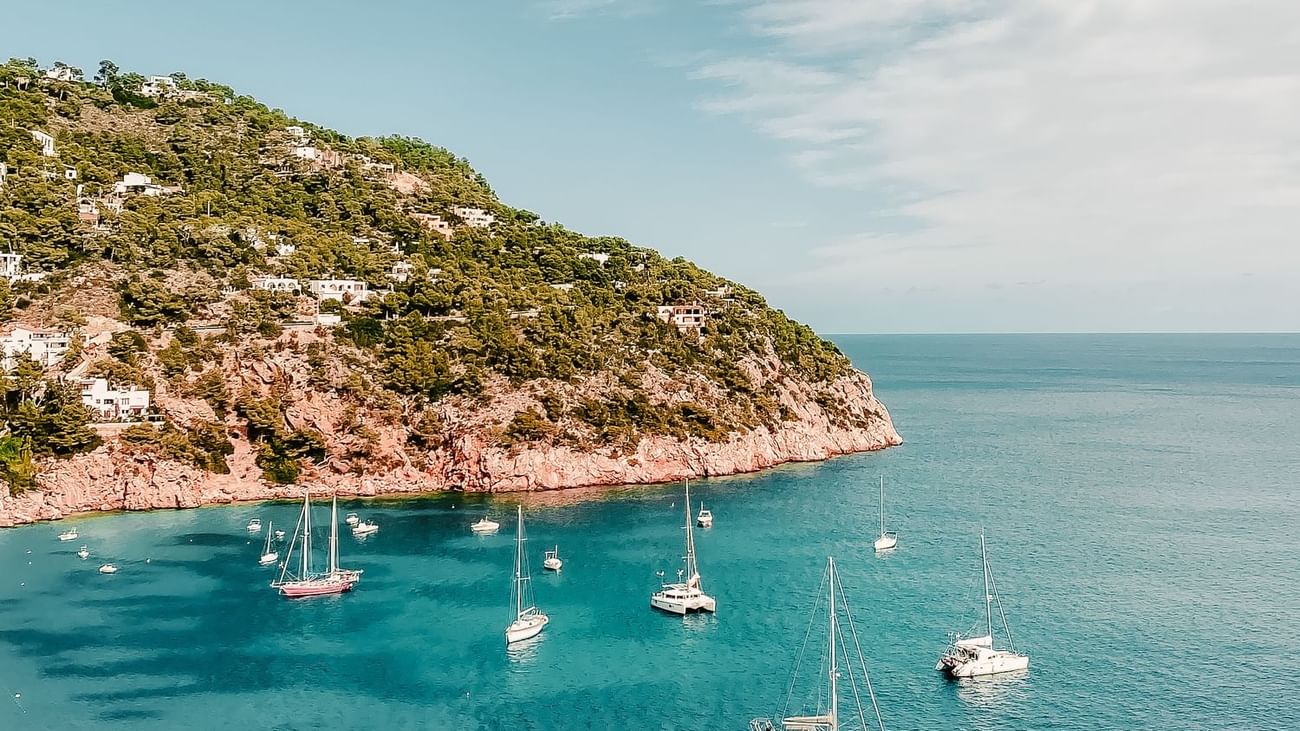 0000-00-00
10 reasons to visit Ibiza this Spring
Looking for an escape with something different? Ibiza, the unashamedly quirky, Balearic Island's middle child, is the ultimate springtime destination. More than a party paradise, the island boasts never-ending natural beauty that's waiting to be discovered.
​​​​​Looking for an escape with something different? Ibiza, the unashamedly quirky, Balearic Island's middle child, is the ultimate springtime destination. More than a party paradise, the island boasts never-ending natural beauty that's waiting to be discovered.
With above average temperatures, you can soak up the sun on the island's pristine beaches or hike through lush pine forests. But that's just the beginning - Ibiza's gastronomy scene is a foodie's dream come true. From mouthwatering Mediterranean cuisine to succulent seafood and local wines, your taste buds will be BUZZING.
Always a winner, visiting Ibiza in the spring means you'll avoid the tourist hordes and have the opportunity to truly unwind and recharge. So, what are you waiting for? Here are 10 reasons to come and discover the untamed side of Ibiza and make unforgettable memories in Spring.
Adrenalin fueled outdoor adventures
Spring is the perfect time to explore the stunning natural landscape of Ibiza. With its warm sunshine, gentle breezes, and incredible landscapes, this season is perfect for outdoor activities. One of the best ways to experience the island's beauty is through guided hikes, which take you through pine forests, rolling hills, and secluded corners that are not accessible by car. The views of the sparkling Mediterranean Sea from the summits of the island, are breathtaking and make the experience even more memorable.
And if you want to take your Ibiza adventure to the next level check out the Nobu Hotel Ibiza Bay Holistic Hikes. This unique experience, in partnership with leading island experts Ibiza Hike Station, is designed to connect mind, body and spirit and take you to some of the most stunning and serene spots on the island. Get ready for an unforgettable adventure of three nights and three hikes where you will explore breathtaking gorges and hidden caves that lead to natural Jacuzzis, and of course, always accompanied by your guide, the experienced Manuel, former c-suite that fell in love with the island and never looked back. With three nights in our luxurious accommodations, access to the hotel's spa, and a beach club at your disposal, this exclusive retreat provides the perfect balance of adventure and relaxation. Described as 'life changing' by Conde Nast Traveler, it's an experience you won't want to miss.
Club opening parties
As winter fades and temperatures rise, the excitement builds. Party-goers from around the globe gear up to experience its legendary opening parties, the most highly anticipated events of the season. Marking the start of another memorable summer of music, dancing, and good vibes.
First off-the-block, on the 28th of April, is Pacha, within walking distance from Ibiza Town and renowned for its glamorous atmosphere and legendary opening parties. This year marks a special milestone as the club celebrates no less than its 50th Anniversary. The one and only Solomun, a true icon of the international music scene, will be gracing the stage with his unbeatable beats. As a regular at Pacha Ibiza, he's no stranger to throwing unforgettable parties, and this one is going to be no exception. But that's not all, the night will start off with a bang with the incredible Ángel Linde, a talented artist who knows just how to get the crowd hyped and ready for the main event. Get ready for a night you'll never forget at Pacha Ibiza's opening party!
On the other side of the island lies Amnesia, a club like no other. Its sound system is considered one of the best in the world, and its DJs are some of the most sought-after in the industry. Don't miss their opening party on the 13th of May, a watershed moment in the calendar which indicates that Ibiza is open for business. Step onto the dance floor and let yourself be carried away by the electrifying energy of the place and the pounding beats of some world-known exclusive DJs like Anna Tur, Adam Beyer, Layton Giordani, Maceo Plex and way more.
Get ready to dance the night away in style, as the world's most iconic clubs welcome you to Ibiza in 2023.
Explore the Idyllic Island of Formentera
Formentera is a hidden, bright and shining turquoise gem a stone's throw from Ibiza, it is the least populated island in the Balearics, and its remote location, untouched nature, and exclusive access by boat make it a unique and unforgettable destination, especially during spring time, where you will have the island to yourself. With mild temperatures, stunning natural landscapes and a fascinating culture, the island is the perfect place to taste the authenticity of the Baleares.
Make spring extra sweet by treating yourself to a stay at Teranka, a luxury boutique hotel, opening on the 28th of April, that will make you feel like you're in a candy-coated dream. At Teranka, every detail is carefully curated to create an unforgettable experience, from the hand-picked decor to the attentive and friendly staff who go above and beyond to ensure guests feel utterly spoilt.
Journey Through Time in the Medieval Ibiza
Step back in time and experience the enchanting old town of Ibiza, known as Dalt Vila, in all its springtime glory! With mild temperatures and fewer crowds, you can wander the winding streets, explore the ancient walls, gates, and hilltop castle, and take in breathtaking views from the battlements.
But the real magic happens during the annual Ibiza medieval fair, held from the 11th till the 14th of May, an event that transports you to a bygone era of jousting tournaments, traditional food and drink, live music, and more. It's an unforgettable celebration of the island's rich cultural heritage that's not to be missed. The narrow streets are lined with charming boutiques, artisan shops, and traditional restaurants serving up local delicacies. Plus, the art galleries and museums offer a glimpse into the island's diverse cultural history.
Discover Hidden Beaches all to yourself
Spring is the perfect time to discover the secret treasures along Ibiza's dazzling coastline. With fewer people and cars, you can escape the white noise of city life and find true serenity on the island's hidden beaches.
From the famous spots like Cala Conta and Cala Bassa, to the lesser-known coves like Cala Xarraca and Cala Llentia, you'll have plenty of pristine and peaceful options to choose from. Imagine having a stretch of velvety sand and shimmering azure waters all to yourself, with only the sound of the waves to accompany you.
Head to its secluded beaches this spring and experience the ultimate beach day, with no crowds to disrupt your blissful escape.
Intimate & authentic gastronomic adventures
Spring in Ibiza is a feast for all the senses, especially when it comes to gastronomy. The typically warm spring weather and lush countryside provide the perfect backdrop for farm-to-table experiences, where you can taste the island's fresh produce and sip on locally produced wine.
From winery tours to olive oil tastings, there's no shortage of culinary adventures to be had on this island. And with fewer crowds, you can enjoy a more intimate and authentic experience as you learn about the traditional tools and special skills used to create these delicious delights.
Take a stroll through the vineyards and olive groves, bask in the sunshine as you sample the freshest ingredients, and savor the unique flavors of Ibiza. Whether you're a foodie or a wine connoisseur, the island's springtime offerings are sure to leave you feeling satisfied and inspired.
And to make your experience even more special, Nobu hotel Ibiza Bay has prepared a number of such tours and workshops for its reopening. Guests and locals alike can visit Can Rich's wine cellar, the innovative blacknose winery, participate in tapas-making workshops, sushi master classes, visit spectacular wine cellars, and explore the beautiful vineyards of the island. The perfect opportunity to learn about Ibiza's traditional culinary methods and discover the secrets behind its delicious cuisine whilst sipping on a glass of the finest Ruinart.
Find your inner peace
Springtime in Ibiza offers the perfect opportunity to focus on your well-being and embark on a transformative journey of self-love. With fewer distractions, you can immerse yourself fully in the experience and let the serene atmosphere of the shoulder season guide you toward inner peace.
Whether you're seeking to deepen your yoga practice, explore the island's breathtaking landscapes, or simply disconnect from the stresses of daily life, Ibiza's spring tranquil atmosphere is the perfect environment to prioritize your mental health and well-being. Surrounded by a supportive community of like-minded individuals, you'll have the chance to customize your experience and achieve your goals in a way that feels authentic and empowering.
If you're looking for a more in-depth and meaningful self-care experience, we invite you to join our How to go Through what you go through Retreat in conjunction with Self Space. Enjoy insightful and inspirational workshops designed to help you find balance and enhance your well-being. From decompression sessions to Deep and Meaningful Suppers in Nobu our retreats offer a unique blend of self-love and growth to help you rejuvenate and leave feeling both refreshed and inspired.
Get star-struck at the Film Festival of Ibiza, Ibicine
April 15th-22nd sees the best of the best from the Spanish movie industry, descend on the island for this annual film extravaganza. With its selection of thought-provoking and exciting films, Ibicine will leave you inspired and entertained. Whether you're a film enthusiast or just looking for a unique cultural experience on the island, the Ibicine Film Festival is not to be missed. From acclaimed directors to up-and-coming talent, the festival brings together a diverse range of filmmakers and actors, making it the perfect way to round out your cultural experience on Ibiza this April. So, grab some popcorn, sit back, and enjoy the show!
Dive into a world of underwater wonders
Ibiza is known for its beautiful beaches and crystal-clear waters, but there's a whole world waiting to be explored beneath the surface, no matter your age or level of experience. And you don't even have to get wet.
Perfect if you are traveling with kids or just looking for a unique way to see the underwater world, try the Ibiza by the sea family-friendly adventure from Nobu Ibiza Bay. Head into Talamanca Bay on a zodiac, and you'll get an up-close look at sea life through a virtual reality headset without feeling a drop. An underwater drone will beam back live footage from the seabed, giving you a glimpse of Mediterranean fish and all kinds of marine creatures. Then, it's time to jump in with a snorkeling tour of the surrounding waters. And the best part? The tour is designed to be 100% child-friendly, so even the little ones can get involved and explore the underwater world.
If you're looking for a more in-depth experience, consider joining biologist, explorer and island legend Manu San Felix on a diving trip. A Formentera native, Manu is passionate about protecting the Posidonia meadows, which are unique to the Mediterranean and have been declared a UNESCO World Heritage Site. These underwater meadows are thousands of years old and capture more carbon dioxide per square kilometer than the Amazon, making them the sea's very own "green lung." Manu will guide you through and take you to incredible dive sites around Ibiza, including the mythical Es Vedrà, the Natural Park of Ses Salines, and the shores of Formentera. Whether you're an experienced diver or a beginner, you'll come away from the trip with a newfound appreciation for the beauty and importance of the underwater world.
New openings…
Amongst the many new openings on the island, we are proud to announce the launch of our highly-anticipated Nobu Lounge and breathtaking Rooftop Terrace with views over Talamanca Bay and to Dalt Vila.
31st of March sees the Nobu Lounge open its doors providing an exclusive and intimate experience for hotel guests and locals alike. And hot on its heels with be the Rooftop Terrace, allowing visitors to indulge in breathtaking views of the island while immersing themselves in the buzzing energy and electric atmosphere that only Ibiza brings.
Don't miss out on the chance to experience the latest and greatest additions to Nobu Ibiza Bay this spring.
Sign up for our newsletter and be the first to know about all the exciting events, delicious menu additions at our world-famous Nobu restaurant, and unbeatable promotions exclusive to our newsletter subscribers.
With colorful blooms in our garden and the warm sun on our untouched beaches, spring at Nobu Hotel Ibiza Bay promises to be a laid-back, exciting, and unforgettable experience.