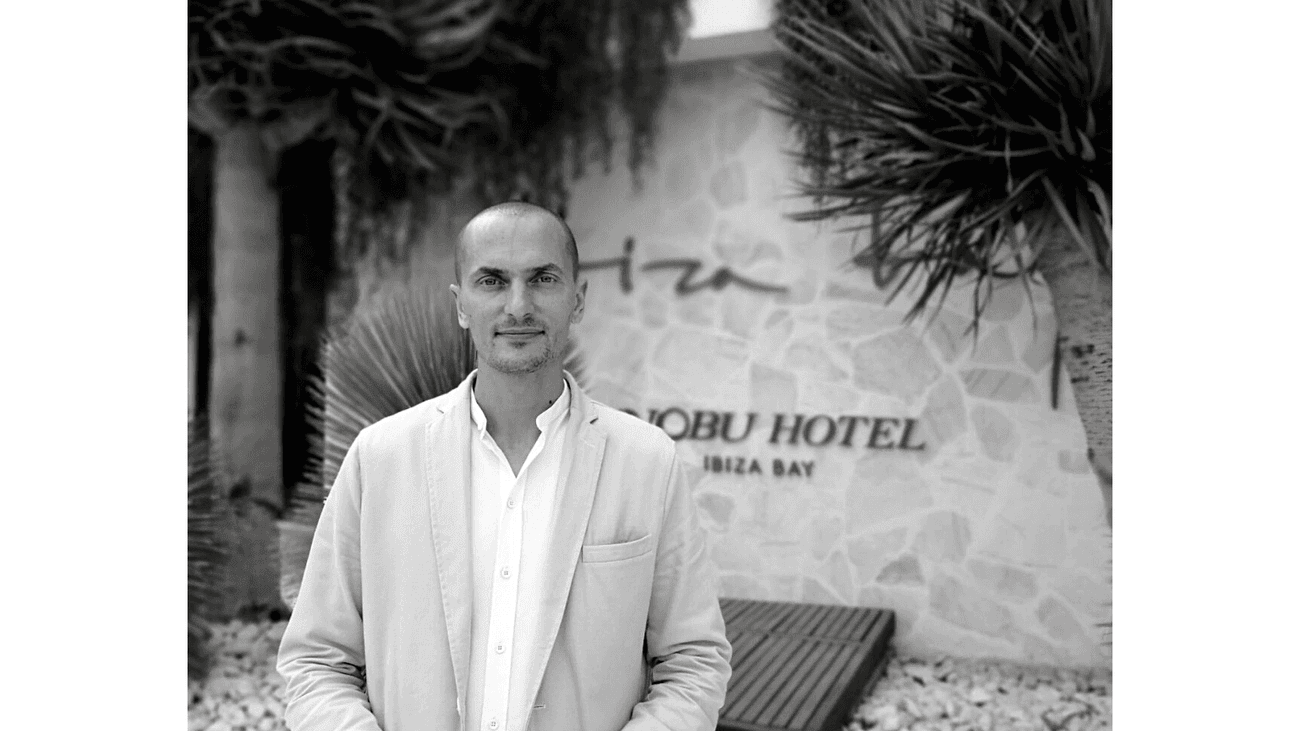 2023-09-01
Meet our team: Lisandro Nembrini, Head Concierge
Argentine-born Lisandro Nembrini, who moved with his family to Madrid when he was just nine years old, has two great passions in life: design and hotels. As Head Concierge at Nobu Hotel Ibiza Bay, Lisandro combines his love of helping people and a knack for problem-solving with in-depth, insider knowledge of Ibiza. "I also love to chat with new people," he confesses with a smile. "I do a lot of talking!"
The role of the concierge is part fixer and part therapist. It takes a certain skillset to successfully manage the various personalities one comes across in a hotel as dynamic and international as Nobu Hotel Ibiza Bay. "The concierge is there for everybody," explains Lisandro. He sees his team as facilitators to pleasure and on a five-star scale – undoubtedly, the role requires certain skills. "A good concierge is always organised, efficient and composed and above all, discreet."
In Ibiza, no two days are ever the same, but Lisandro ensures things run like clockwork behind the scenes and front of house at Nobu Hotel Ibiza Bay. It might be boat rentals, car rentals, VIP or beach club bookings or restaurant reservations – whatever our guests need, Lisandro and his team make sure to provide it. Much of Lisandro's day is focused on getting to know guests and building an ambience of trust. "Our guests come back again and again, because the hotel is beautiful but also because of the way our staff make them feel," he says.
A concierge always has to have their finger on the pulse and Lisandro's relationships and connections outside of the hotel are just as important as those within it. Selecting the best location for a guest's lunch, dinner, event or night out takes a level of psychological sleuthing and local knowledge. Everyone has their favourite beach recommendations, so Lisandro has dedicated a wall in his office to printouts of each beach complete with commentary, so everyone has access to the information. His personal favourite is Cala Boix. "The landscape is just so beautiful and dramatic there," he says. "And the sea is perfect."
Even for long-time visitors to Ibiza, Lisandro's top tip for experiencing the island is to rent a car and drive. "Preferably a cabriolet," he says. "Driving across the island with the roof down is the best. I tell people which routes are best for what, and what time of day to catch the best light,'' he says. "Many people don't realise how beautiful the island is until they get to drive across it at dusk."
Lisandro's love of his job is obvious in the way he interacts with guests and cares for his team, as is his love for the magical location he walks into every day. "There's nothing else like it. I'm a design lover so for me, the hotel is exquisite," he says. After working in large, international chains for over a decade, Lisandro delights in the family feel of Nobu Hotel Ibiza Bay. "It's a brand that's expanding but still stays personal," he says. "It's open and friendly. I really like that about being here." No doubt that's exactly what his guests say too.