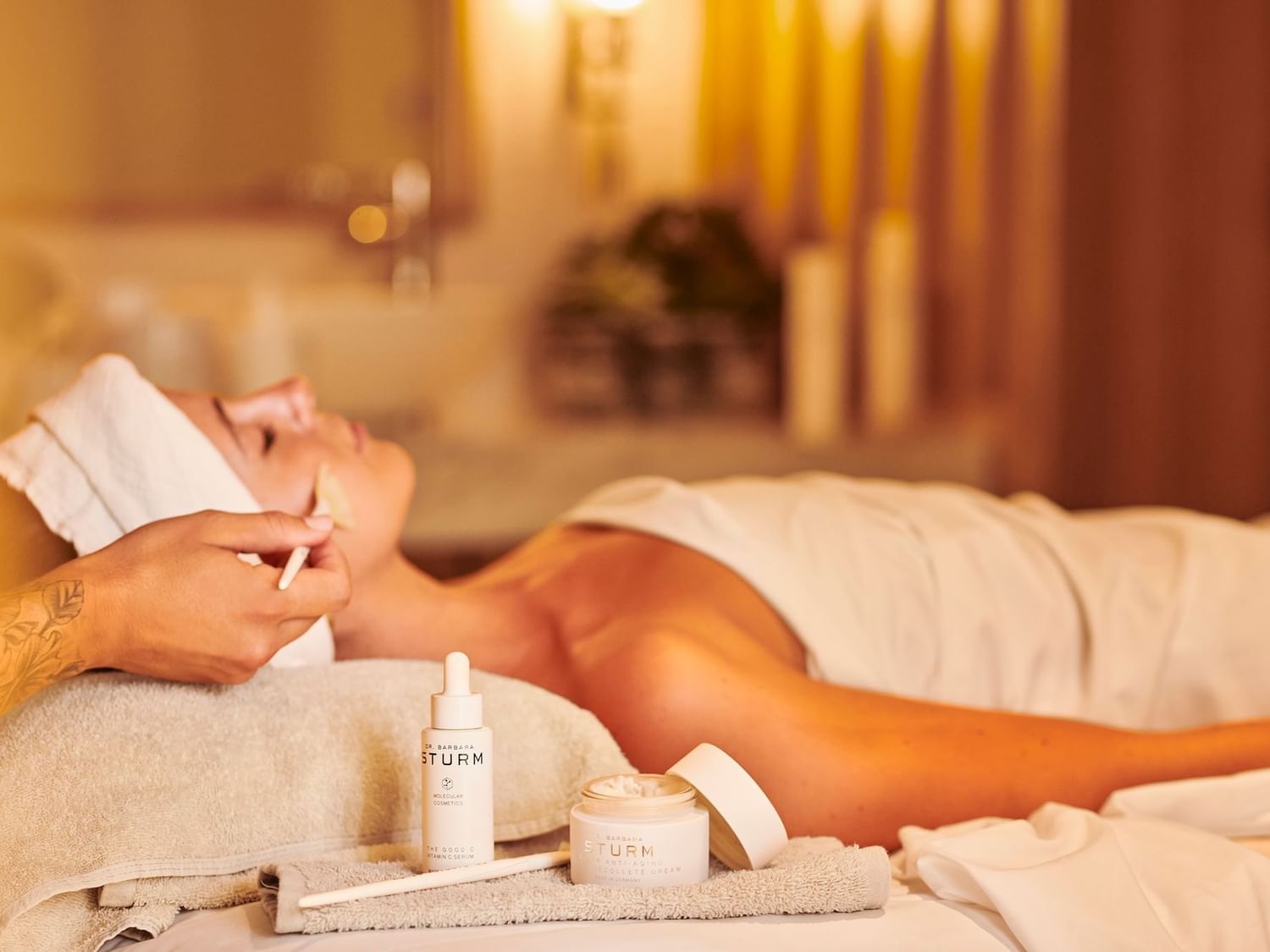 Doctora Barbara Sturm
The globally recognized aesthetics doctor and skincare brand founder, Dr Barbara Sturm, has partenered with Nobu Hotel Ibiza Bay to develop a range of exclusive skincare products and treatments.
Known for her non-surgical anti-aging treatments and products that focus on the skin's natural healing processes, these products and treatments are specifically designed for our use and are formulated with her signature ingredients to deliver a luxurious and effective spa experience.
Dr Barbara Sturm Facial Treatments
SIGNATURE STURM GLOW FACIAL
This facial combines thorough cleansing, exfoliation and extractions to leave the skin super clean and refreshed. It also includes Dr. Barbara Sturm's Signature Anti-Aging Massage; a unique combination of massage techniques which help increase blood and oxygen flow and tone and define the facial muscles for an instant, youthful-looking complexion.
INSTANT GLOW FACIAL
This revitalizing facial will cleanse, nourish and awaken the skin and help restore the complexion's natural glow. Light-reflecting pigments in Glow Drops leave the skin with a visible, youthful radiance and even out the appearance of any irregularities on the complexion.
THE SUPER ANTI-AGING FACIAL
The effects of the anti-oxidant infused, peptide rich, Super Anti-aging Serum is combined with an exclusively designed, re-sculpting and anti-gravity massage. This cosmetic treatment replenishes moisture reservoirs resulting in a smoother and more youthful complexion, while promoting the skin's natural barrier function and reducing the appearance of fine lines and wrinkles.
MEN'S FACIAL
Customized to the specific needs and challenges of men's skin, this treatment cleanses, tones, soothes and comforts irritated skin, especially after shaving. The Men's Facial removes rough or dry skin and improves skin barrier function, while also fighting the signs of aging, under eye discoloration and puffiness.