Dear valued guests,
Thank you for your loyalty and continued support during these tumultuous times.
At Nobu Ibiza Bay we have always strived to create a setting that seamlessly blends the beautiful energies of Ibiza, creating a haven of wellbeing for our guests from around the world. During this unprecedented time, we continue to place the well-being of our guests and team at the heart of everything we do.
Please note that cancelations to existing reservations will be subject to the contracted cancelation policy. Changes are subject to availability, confirmation, and any differences in the room rate.
COVID-19 situation in Ibiza update
Please consult here to learn more about the current situation in Ibiza and the Balearic Islands.
What to expect from Ibiza this summer?
Similar to summer we expect 2022 to be a different but also absolutely beautiful season - lived at a slower pace. All cafes, restaurants, beach clubs, shops, and markets are already open respecting the hygiene and safety measures imposed by the government. With nightclubs already open, there are also some excellent shows such as the cabaret dinner shows and other restaurants and bars including Nobu which offer DJ nights and live music to entertain diners. Outdoor adventure sports and boat charters are more popular than ever, as visitors enjoy experiencing the natural beauty of Ibiza.
Is it safe to travel to Nobu Ibiza?
Our resort is isolated from the general public. As such, we have complete control over who we permit to enter our resort. We would like to reassure that we are entirely focused on the experience of our guests and our priority, always, is your health and safety. We are adhering to the latest information, protocols and tools from the world's leading health experts and government authorities in response to growing concerns from travellers regarding COVID-19.
What happens to my booking if it is declared by the Government not to travel to Ibiza?
In case of travel restrictions reservations with restricted conditions such as prepayment or non-refundable will be waived using current deposit as accommodation credit for the new stay.
How do I get to the resort safely?
We recommend booking an airport transfer with one of our preferred partners.
All drivers are trained and instructed to keep conversation to a minimal level. They will be wearing a face mask and gloves. The cars are duly disinfected after every guest's journey.
What are we doing to keep our hotel safe?
The hotel has developed a prevention and protection programme "Safe with us" focused on providing care, confidence and comfort to our guests, employees and residents within the new COVID-19 environment.
This includes a comprehensive sanitisation programme adhering to the latest information, protocols and tools from the world's leading health experts and government authorities.
What happens if I start feeling unwell during my stay at Nobu Ibiza?
We ask that you to please remain vigilant during your stay with us, and immediately report any symptoms of COVID-19 infection (runny nose, high fever, dry cough and flu-like symptoms) to one of our employees, who will then contact the medical authorities.
Are there COVID-19 testing and quarantine facilities in Ibiza?
This season, our concierge department will manage and plan a visit from the health authorities if needed.
Our hotel is well equipped to deal with all emergency situations.
Who can I speak to in order to find out more information about your onsite prevention and management plans?
Our Reservations team is available to answer any questions you may have concerning upcoming bookings or travel arrangements. Please do not hesitate to reach out to us by phone +34 971 192 222 or email reservations-ibiza@nobuhotels.com and we will do our best to help you with any concerns you may have regarding your holiday.
LIKE NOWHERE ELSE IN IBIZA

At Nobu Ibiza Bay, we are very fortunate to enjoy a privileged location on the shores of Cala Talamanca, eight kilometres from the airport and two kilometres North of Ibiza Town.
Away from the hustle and bustle, step from the hotel straight onto the soft sandy beach - or your yacht. With the beach promenade right outside your door, in a 15-minute walk, you will be wandering through the trendy boutiques and restaurants of Marina Botafoch or the authentic shops and tapas bars of Ibiza Town just a few minutes further away.
The hotel is a boutique escape that stands out from the club-going crowd. Forget all-day-all-night revelling - here, quantity gives way to quality. Picture cocktails mixed by your on-call waiter, a lounger by the freshwater pool and a suite that opens out overlooking the beach. Intimate bars and restaurants become chic spots for evening parties.
Start your day with breakfast on your terrace, taking in the sea views. Enjoy a morning by the pool then sip on a refreshing drink at the beach. Unwind with a massage at the Spa by Six Senses, or perfect your day-to-night look with a manicure at the salon or a spot of shopping at our boutique Almacen. As the sun goes down, the energy picks up. Select from the Mediterranean at Chambao, Japanese fusion at Nobu and healthy gluten-free at Bay Cafe. Enjoy drinks before going out, or stick around for up-tempo beats and chill-out vibes at the bars dotted throughout the resort.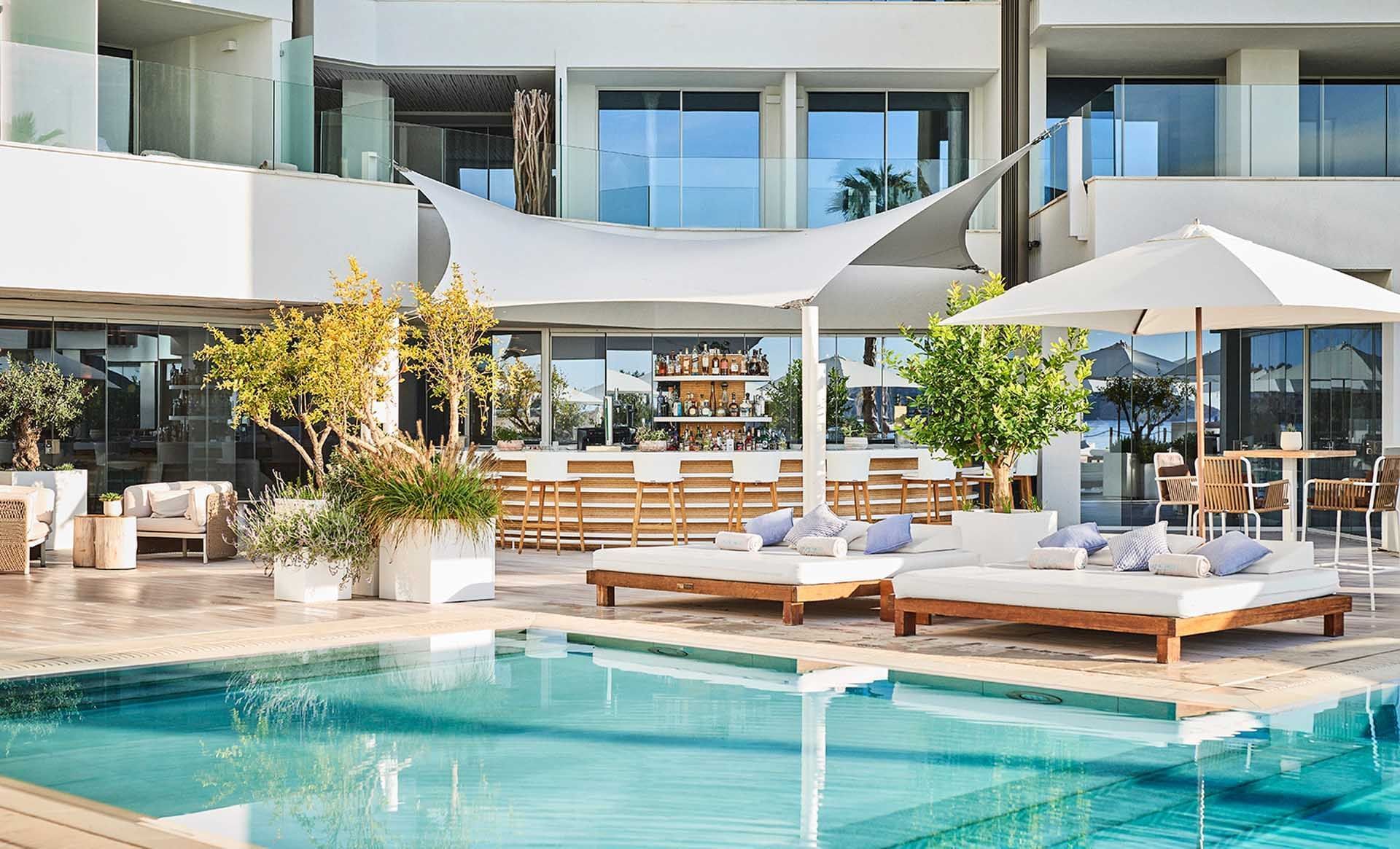 Children and families of all ages are welcome as the hotel is designed perfectly to suit both. From a selection of family-friendly rooms, including some great interconnecting options, to a dedicated family pool and complimentary kids club.
A number of locally inspired workshops keep children entertained and happy whether that's foraging the local area for craft materials and hippy-chic-inspired activities or mixing some tunes in the DJ workshop. It's all about learning while having fun educating young guests through interactive themed storytelling and special eco-focused days.
Our top suites offer the ultimate in privacy and seclusion, with mesmerizing sea views and spacious outside terraces with jacuzzi pools. Solitude and peace of mind to enjoy life's simplest pleasures.
Offering all the benefits of the Nobu Ibiza Bay experience but with the seclusion and space of a private seafront villa, the Nobu Penthouse Suite is the ultimate laid-back luxury in Ibiza.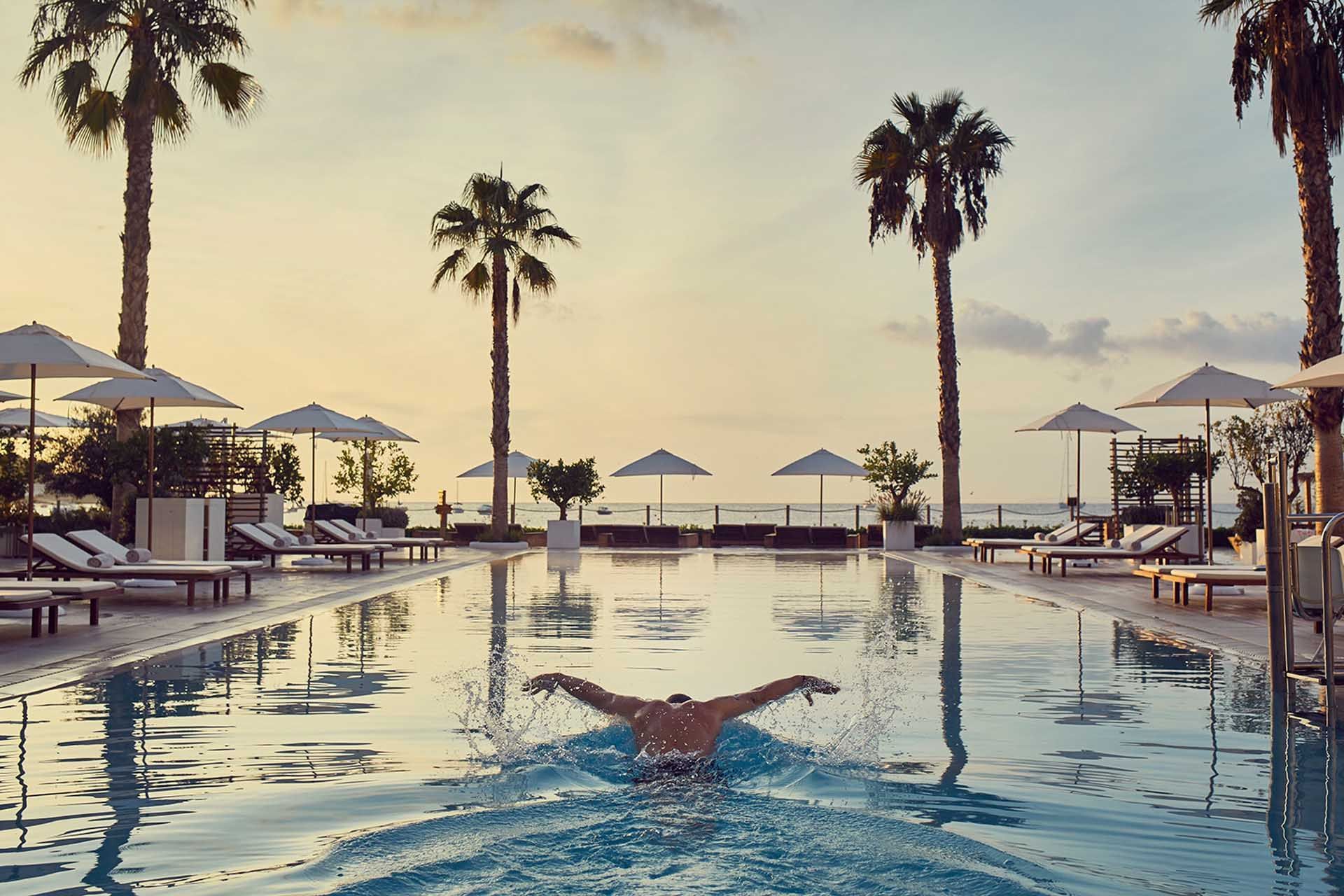 A stylish refuge, with three bedrooms and over 100 sqm of Rooftop Top terrace providing plenty of space to relax in the company of loved ones - be it, family or friends. This extensive suite includes indoor and outdoor dining areas and is fully equipped with a kitchen for complete indulgence and a carefree home away from home.
Our Reservations Team is ready to assist with any of your current and future travel plans, including facilitating private jet arrivals or private transfers from the airport.