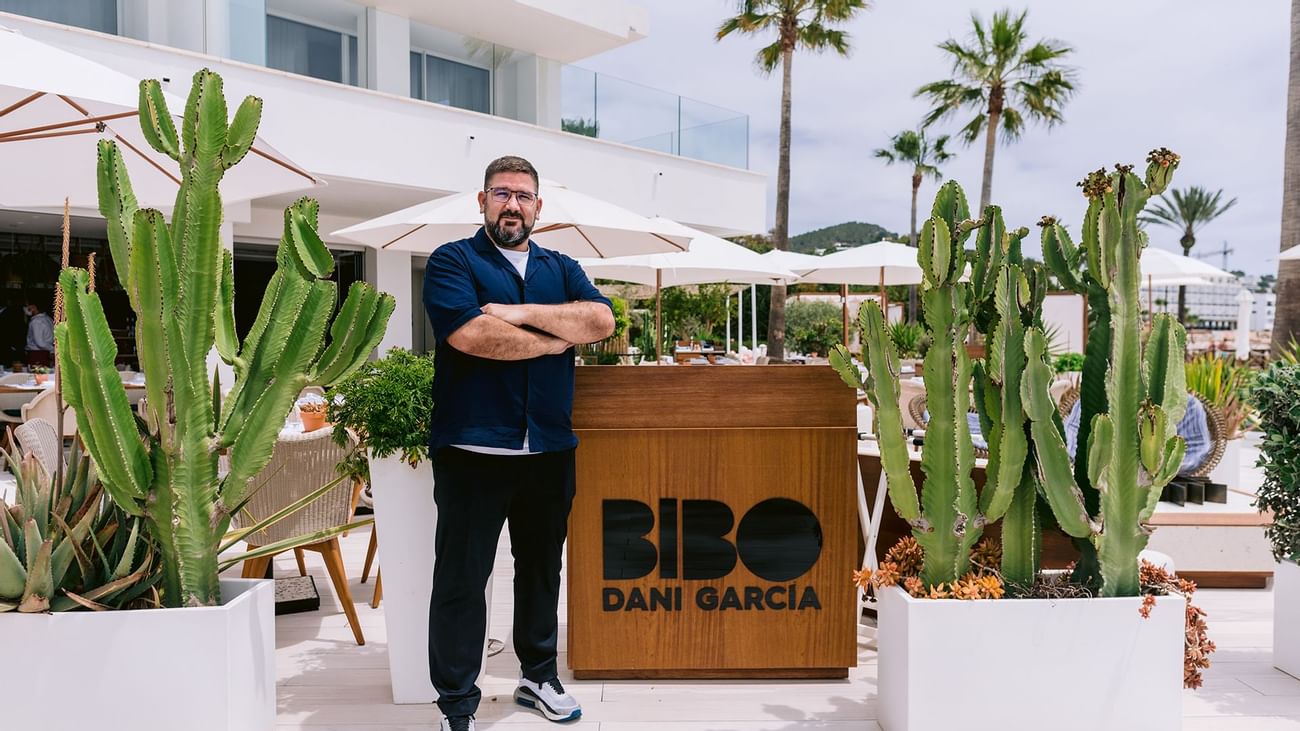 0000-00-00
White Ibiza interviews Dani García
White Ibiza sat down with Chef Dani García of our new pop-up restaurant BiBo to talk passion, Ibiza and advice for chefs starting out.
Can you talk about the moment in your life, when you realized cooking was your passion?
Actually, when I was little, I wanted to be a soccer player. But when I finished studying, I realized that cooking accompanied me during my whole life with my parents and grandmother, I wanted it to be my profession and my way of life.
What is your favorite comfort dish? What is the dish you remember most from your childhood?
Without a doubt mac & cheese. My childhood dish is my mother's noodle casserole.
Who are your culinary heroes and why?
Nobu and Joël Robuchon. Because of their ability to take their cuisine and business model around the world. In addition, they have known how to resurface when necessary.
What culinary tool or ingredient is fundamental to your life as a chef? (Besides your knives!)
The ingredients that are never missing in my kitchen are tomato, oil and salt. Regarding culinary tools besides knives, what is essential in my kitchen is a good frying pan.
Can you please talk about the development of BiBo as a concept? What is the source of your inspiration?
BiBo was our first concept whose objective was to democratize haute cuisine and make the client enjoy a wide menu influenced by flavors from countries I have visited throughout my life. Therefore, you can find influences from Mexico, Japan, Italy…
What are your connections with the island? when was the first time you came to Ibiza?, what did you think of the island? What do you like about Ibiza?
I've always been in Ibiza for leisure and vacation, mainly. Although we have also done some event and collaboration on some occasions. Personally, I love its gastronomy, restaurants and, of course, its landscape and the sea... It's the perfect place to disconnect and enjoy.
Joining forces with Nobu brand must be very exciting: tell me about your experience, the development of the idea, the execution of the idea during these times, etc.
The opportunity came up and the idea was to bring the concept to Nobu Ibiza Bay Hotel and we couldn't say no. We admire everything they do and being inside their location is a real blast. BiBo can adapt to any environment and still be BiBo without losing its essence. We are very happy with the result and we hope all Ibiza and people who visit the island enjoy it as much as we do.
When did you first go to Mexico and what was your most memorable culinary experience there? What attracts you to Mexican cuisine?
I have visited Mexico several times for work reasons and we have always had the opportunity to get to know the country more in depth as well as its culture and flavors. I am attracted to the essence of its cuisine and the flavors.
How did you start working with Abril Chamorro?
We met in New York. She was part of the restaurant I had there. Then she came to Spain and became part of Dani García Restaurant. Today she is one of the key members of my R&D team. She is part of the team in charge of openings and taking our concepts and ideas around the world. Among them, BiBo Ibiza.
What is your favorite dish on the menu and why?
The oxtail brioche because it is the top dish and it is always the most acclaimed wherever we are. From the Mexican menu the aguachile without any doubt.
What is your next gastronomic destination? Where would you like to go and what would you like to eat?
London. We are opening Bibo there soon.
What advice would you give to a young Dani Garcia who is just starting out in the industry?
To pursue your dream until achieving it. There will be better and worse times, but you should never give up, no matter how many times life knocks you down, you should always get up and carry on.
What do you like most about your job?
Seeing clients enjoy my dishes. That's what we work for every day at Dani García Group. For their happiness.
You can see the full interview on White Ibiza here.