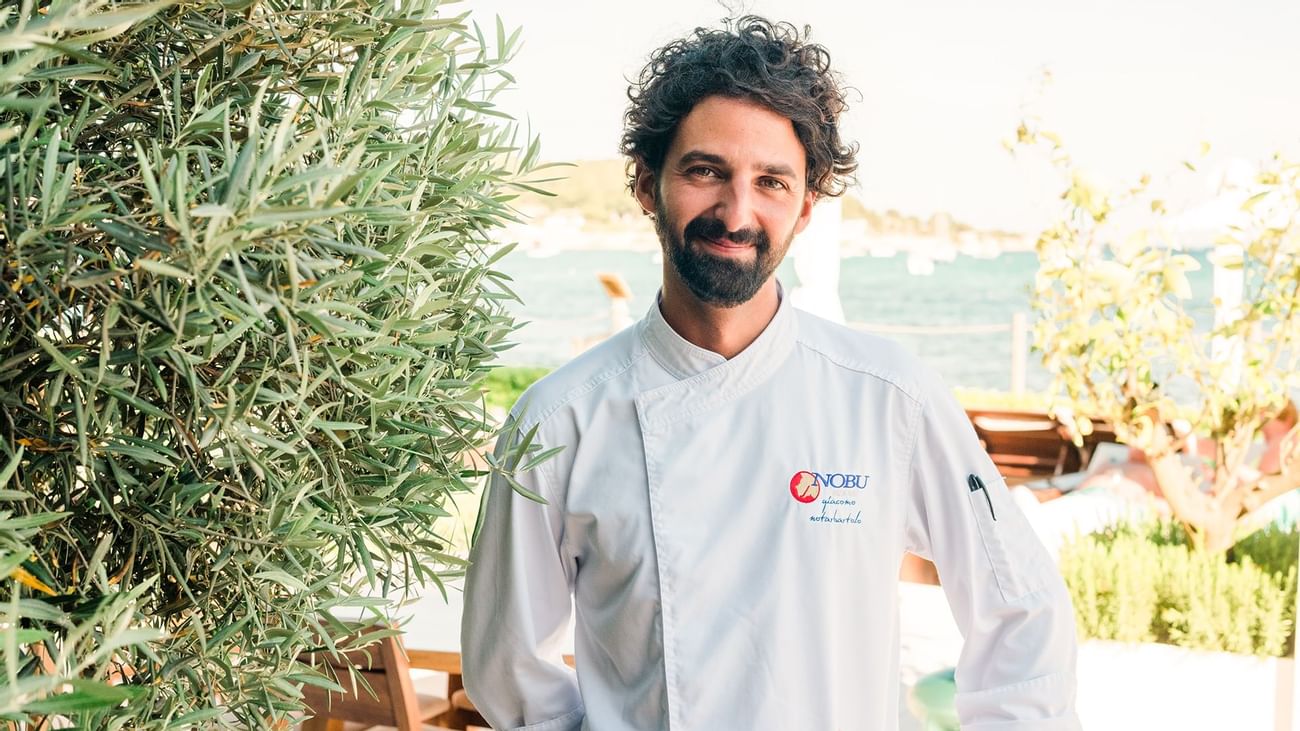 0000-00-00
Meet our team: Giacomo Notarbartolo, Executive Chef, Nobu
Our Executive Chef, Giacomo Notarbartolo, talks Italian mothers, getting started as a chef and what he loves about life on the White Isle.
Most chefs go to work in a small, hot room lit by blinding fluorescent strip lighting. Not so for Giacomo Notarbartolo, executive chef at our eponymous Nobu restaurant. "I can see the sea from my kitchen," he says, beaming. "I love being so close to it. This place is so beautiful." For the Milan-born chef, arriving at Nobu in Ibiza was a culmination of hard work and dreams coming true. After just three years of climbing the ranks at Nobu – first in Miami and then in Milan – he was entrusted with heading up his first restaurant at the tender age of 29.
As most Italians will attest, their love of food and cooking is inherent and passed down from grandmothers and mothers. "My mother always put a lot of passion into her cooking so it was predictable that I would be the same," Notarbartolo says. His training and years working stages culminated in positions within Michelin-starred restaurants in Italy and London before moving to Miami and entering the world of Nobu Matsuhisa. "I started at the bottom," he says. "And little by little, I moved up."
While he was at Nobu in Milan, Notarbartolo got the call about Ibiza. "I had come to the island as a teenager to celebrate graduating from high school," he recalls. "I was worried it would be too superficial and all about parties," he says. "But I'm discovering the island more and more. I'm falling in love with this place. I love being away from the hectic life of a big city. You can find peace here no matter what time of year."
Alongside the classic Nobu menu, there are six dishes on the Nobu Ibiza menu – developed by Notarbartolo to reflect the essence of Ibiza mixed with the flavours of Japan. Garlic prawns come with yuzu or a sea bass en papillote with black garlic butter and hierbas made with soy is a twist on tradition. Notarbartolo also adds specials that reflect local produce prepared in Nobu style. "I work on fusing the Spanish traditions with the flavours of Japan."
When he's not working, Notarbartolo can be found in or near the sea –windsurfing, sailing, discovering more of his beautiful adopted home and eating out in the island's more traditional restaurants. "I find a lot of inspiration in the old-style places," he explains. "I'll start from the original recipe, then try to see how I can make it in Nobu style with Japanese products and methods." When he has an idea near completion, he takes it to his team and together they test and play until it's just right. "Now my challenge is to keep improving," he says. "I love the work and my team and the island has really good energy." It seems that Island life, and Nobu life, agrees with him.